Access Control Solutions
With our partner abroad O2 Technologies Nigeria limited provides state-of-the-art access control software that integrates the most advanced security technologies with innovative networking capabilities to bring you full-featured security solutions serving any size facility
Biometrics solutions
With our partner abroad O2 Technologies Nigeria limited provides a wide range of biometrics solutions ranging from facial recognition, fingerprint, voice, iris etc.

Bollard Access system
O2 Technologies Nigeria Limited provides an advance access control model solutions such as bollard access control system to an organization that requires high level of access control of both people and vehicles.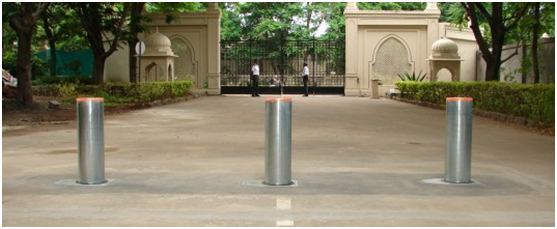 Bollard access control system is the very choice of present access control system in an area requiring vehicle restriction. With bollard access control system only authorize vehicles can gain access into the premises. Every occupant data/vehicles in the premises are enrolled and incorporated into a chip card that will be place in every cars and the Bluetooth card reader will be place at a strategic location at the gate which read and authenticate every cars with a card chip on it within 10 or 15m to the gate and then retract the bollard underground to realize barrier-free passing of authorized vehicles. With this functionality access will be restricted to non-occupant of the premises. An access can only be granted to visitors once the security men at the entrance verify the visitor and then use the manual function to retract the bollard underground. Bollard system is suitable for customs house, port & wharf, high-class residential estate, walking street, industrial park, government building, prison, embassy, military base and other places requiring vehicle control
.
Visitor's Management System

O2 Technologies Nigeria Limited will enhance your investment in access control and perimeter security by providing a simple and effective way to register, badge, track and manage your facility's visitor traffic.